Amy Kazmin and Tom Mitchell – FT.com June 17, 2020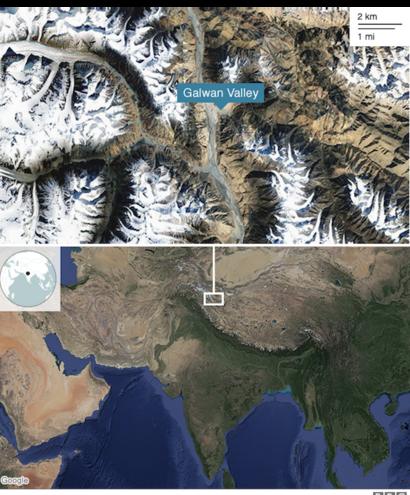 Grim details of the clash that left at least 20 Indian soldiers dead near the Chinese border have begun to trickle out, revealing that soldiers used improvised weapons, including batons wrapped in barbed wire, during the high-altitude brawl.
Indian media reported that the battle was fought in darkness on a narrow ridge overlooking the Galwan Valley in the Himalayas — more than 14,000 feet above sea level — after Indian troops tried to verify that Chinese soldiers had honoured a pledge to withdraw from a strategic position.
Scuffles broke out and in the violent melee some Indian soldiers plunged from the ridge into the ravine below, according to Indian media.
The clash involved hand-to-hand combat and improvised weapons because firearms are prohibited in the disputed zones under a protocol intended to prevent an inadvertent escalation of violence.
While Beijing has not confirmed any details of the confrontation, Indian media reported that the Chinese military also suffered many casualties.
Before Monday's fight erupted, the two nuclear armed neighbours had been discussing a mutual disengagement from a weeks-long stand-off at multiple points along the disputed 3,488km border.
With tensions running high along the "line of actual control", China's foreign minister Wang Yi and his Indian counterpart S Jaishankar held phone talks on Wednesday aimed at preventing further violence.
The Chinese foreign ministry said both sides agreed to "cool down the situation," while India's foreign ministry said they had agreed "neither side would take any action to escalate matters".
But Mr Jaishankar also accused Chinese troops of seeking to erect a structure in the valley "on our side of the line of actual control," New Delhi said. China's action "was directly responsible for the resulting violence and casualties," he said, according to Indian officials.
Beijing reiterated its position that Indian troops had crossed into Chinese territory and "provoked" the clash. "India should not misjudge the current situation or underestimate China's determination to safeguard territorial sovereignty," Mr Wang said, according to China's foreign ministry.
Tensions over the undemarcated border have simmered since China and India fought a fully fledged war in 1962. But despite occasional flare-ups — including violent brawls and confrontations between rival border patrols — the conflict has not led to any fatalities since 1975.