David Agren – The Guardian March 25, 2020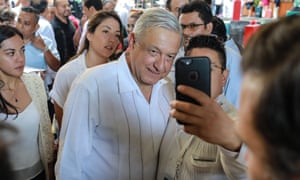 From a bountiful table filled with culinary delights from Oaxaca, Mexico's president offered unusual advice for a country facing the coronavirus crunch: keep dining out.
"We're going to keep living life as usual," a relaxed Andrés Manuel López Obrador insisted in an online video shot during a weekend tour of the southern Mexican state.
"I'll tell you when not to go out any longer," the left-wing populist said, explaining that the pandemic was still only in its first phase.
"If you're able and have the means to do so, continue taking your family out to eat … because that strengthens the economy."
López Obrador, who most know as Amlo, has responded to the coronavirus crisis with nonchalance – never missing an opportunity to contradict the advice of public health officials or paint the pandemic as a plot to derail his presidency.
In recent weeks Amlo has routinely avoided social distancing and organised campaign-style rallies rife with gladhanding, hugs and baby-kissing
Amlo has also resisted ratcheting up measures to slow the virus – such as calling off mass events until recently or closing schools and businesses – arguing that doing so would unnecessarily harm the vast swaths of the population economically unable to isolate themselves for several weeks or months.
Even his attempts at promoting social distancing seemed petulant. Last week he tweeted a video of a young girl with braided hair lauding his presidential agenda – "we're with you and your great national project", she said – to which Amlo replied: "I wanted to smother her with kisses, but couldn't because of social distancing."