henrymakow.com — Jan 17, 2020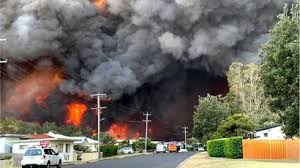 "What starts with 'f' and ends in 'uck'? Firetruck! And the Australian people are currently getting fire-trucked, because before a fire sale you need a fire."
"Apart from Aussies, does anyone else seriously think that Australia's fires haven't been planned?"
Solve et coagula
(dedicated to Clara)
by Aloysius Fozdyke — (henrymakow.com)
WHEREAS the people of New South Wales, Victoria, South Australia, Queensland, and Tasmania, humbly relying on the blessing of Almighty God, have agreed to unite in one indissoluble Federal Commonwealth under the Crown of the United Kingdom of Great Britain and Ireland… Preamble to The Commonwealth of Australia Constitution Act, 1900 (Imp.)
There are huge plans to be put in place in the Land Down Under. The Chinese government and their people will do a better job once they take control and the fires have been of enormous assistance to the Australian peoples' continuing 'gift' of this island continent to the new, Chinese master race. It's not like taking candy from babies. It's taking the world's wealthiest (or second wealthiest) country from a group of retards. Individual liberty is so often and easily curtailed for the common good that order will prevail; not only in Australia.
In terms of huge farms, mines, factories, shipping ports, airports, what used to be our electricity network and wineries Australia, has already been gutted – as were the fire services in last year's budgets.
But Aussies will continue to vote for the two (hand in glove) political parties which form their executive dictatorship. We refer to those parties as a single entity; the LibLab Party. Apart from Aussies, does anyone else seriously think that Australia's fires haven't been planned? There will be a fast train and 'smart' cites (technological prisons for the displaced) along the east coast of Australia and it's cheaper to burn property than buy it.