Niall Bradley – sott.net May 6, 2018
The British media is currently demonstrating a masterclass in how to present fake news, alternate facts, and post-truth as 'reality'. On Friday, local elections in England produced a marginal increase in the number of Council seats held by the Labour Party in England, delivering Corbyn's party with its best local election tally since 1971, and its second-best ever.
If the results were translated into a General Election result, Jeremy Corbyn would have become the UK's new prime minister. But that's not what the British media is telling Her Majesty's Subjects. Instead, the message across all mainstream media – right and left – is that Corbyn's party failed dismally.
Bashing Corbyn non-stop, since he was first elected leader of the Labour Party in 2015 – as 'unelectable', as 'anti-Semitic', as 'pro-Russian', as a 'Communist Czech agent' – the media now lambasts him for not delivering a comprehensive victory – evidence, again, that he should resign!
The last time the Labour Party won local elections by such a wide margin over the Conservative Party was in 1994. Three years later in the UK General Election, it was a landslide victory for Labour. The big difference between now and then is that this time there's no 'third-way', no Tory-lite leader like Tony Blair leading the party – there's Jeremy Corbyn, the British Security Services' "number 1 national security threat."
Labour's London Election results yesterday were their best for 47 years. Don't take my word for it, see for yourself. pic.twitter.com/mkv4kaNpTG

— Tory Fibs (@ToryFibs) May 5, 2018
Unsurprisingly, the media's alternate facts clashed with each other. The BBC reported that the Conservative Party suffered a net loss of just 33 councillors:
However, the Guardian cites a much higher figure of 93, almost triple the number used by the BBC: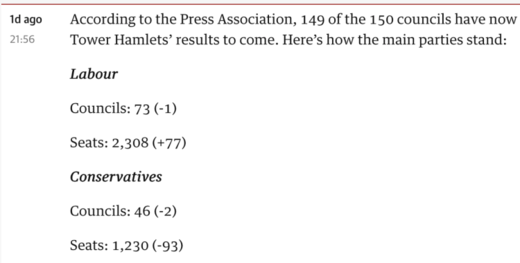 By Skwawkbox's calculation, the real swing in councillor numbers from Tory to Labour was 170, not the 110 figure used in BBC broadcasts and on its website.
With a few exceptions in the form of interviews with people from the reality-based community, the media's universal message is: Labour lost this election – Corbyn is 'done for!'
.@BarryGardiner says it is "extraordinary" that @theresa_may went "running to Wandsworth to say 'congratulations guys … you've only lost seven seats to Labour'".

He adds: "That is not a PM who sees the pinnacle of her success culminating in a general election victory." pic.twitter.com/hozSE6DXB3

— Peston on Sunday (@pestononsunday) May 6, 2018
The only public platforms in which the glaring discrepancy between fact and fiction is being noted are social media, where commenters have voiced their astonishment at the media's Orwellian coverage of the election results:
Delusional Groupthink Basketcase Media Propaganda Militia asks Peak Corbyn? You What? We are only just getting started, we are just warming up, on Local Election results Labour would be the largest party and form the next Govt and Jeremy Corbyn would be the next Prime Minister!! pic.twitter.com/Ii3557NCnv

— ARTIST TAXI DRIVER (@chunkymark) May 5, 2018
Skwawkbox provides the following break-down of objective facts from last week's election results:
Labour took 600 more seats than the Tories
Labour held twice as many councils
Labour had a huge swing to take Plymouth Council in the mostly-Tory southwest
Labour took Kirklees – a council it hasn't held since 1999
In Westminster and Wandsworth, Labour took more seats than at any time since 1986
Labour now hold a record number of seats in Croydon, Ealing, Redbridge and Waltham Forest.
Labour have never won Barnet under any leader. Ever. But in spite of constant media narrative of problems with anti-Semitism, Labour's vote increased by almost 3% in a borough with the highest percentage of Jewish residents in the UK
Labour are now the largest party in Trafford. The Tories lost control of their only council in Greater Manchester
In the last result to be declared, Labour took control of Tower Hamlets in London, almost doubling its seats to forty-two:
From the Brexit shambles to the Skripal Affair, from illegally bombing Syria to assisting the Saudis wage genocide in Yemen, it's open season on the truth and reality as the British establishment lurches from one crisis to another, burying its head deeper in the sand at each turn.
Rather than confront the problems thrown up by their clash with Reality, the British establishment would have the commoners believe that Jeremy Corbyn is a Russian agent, his supporters all Russian bots, and launch a global propaganda offensive to convince other elites to join their anti-Russia alliance.
There's a saying in Russia that the country's only allies are the army and the navy. In Britain, these days, the government's only allies are the media and arms manufacturers, although it seems increasingly unlikely that those are going to save them.