Oliver JJ Lane — Breibart.com Nov 2, 2017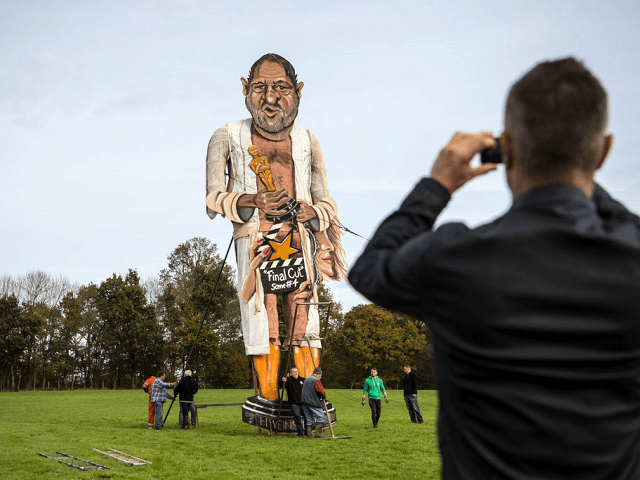 As final preparations for the British celebrations of November 5th come to a close, a 36 foot grotesque of disgraced Hollywood producer Harvey Weinstein has been unveiled in one village — ready to be set alight and burnt to the ground.
The village of Edenbridge, South East England has been building large effigies of people in the public eye and burning them on November 5th for over 20 years, a local part of national celebrations that commemorate the failed plot by Catholic conspirators to blow up the Houses of Parliament and King James I with it. Traditionally British bonfire displays have burnt effigies of gunpowder plotter Guy Fawkes, who was executed after the plan was foiled.
Edenbridge's effigy this year shows Weinstein standing with his dressing gown flapping open, holding an Oscar award and with his genitals covered by nothing more than a "final cut" clapper board and golden star held in place by a woman's hand.
Thousands of people are expected to turn out to see Harvey Weinstein stuffed with fireworks and then exploded on Saturday.
In 2016, the bonfire committee of Edenbridge selected then U.S presidential candidate Donald Trump for their annual display. Seen wearing an American flag tie, Mr Trump cradled in his arm the decapitated head of rival Hillary Clinton.
The target for each year's display is chosen by a vote, as bonfire committee member Jeni Fox explained: "We were spoilt for choice in terms of potential contenders with a shortlist of around 10 potential runners but the people's choice stole the vote.