Patrick Wintour, Julien Borger — The Guardian Sept 14, 2017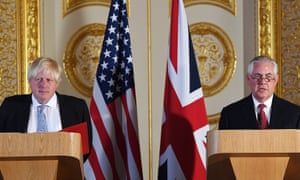 Tensions between the US and UK over whether to tear up the Iran nuclear deal were exposed on Thursday when the secretary of state, Rex Tillerson, said the US viewed Iran as being in default of the deal's expectations but the British foreign secretary, Boris Johnson, urged the world to have faith in its potential to create a more open Iran.
Tillerson repeatedly emphasised that the US decision about whether to end the agreement – signed in 2015 – will be based on a wider assessment of Iranian behaviour, including in Yemen and Syria, and not just on whether Tehran is complying with the strict terms of the deal.
Donald Trump resumed his attacks on the agreement on Thursday, calling it "one of the worst deals I've ever seen".
Trump claimed Iran had "violated so many different elements, but they've also violated the spirit of that deal". He did not say what he would do on 15 October, when Congress requires the administration to certify Iran's compliance but said his stance would be "very evident".
The state department announced on Thursday that the US would continue to suspend nuclear-related sanctions on the Iranian oil industry, as required by the agreement. But officials insisted that the president's waiver of sanctions did not reflect an endorsement of the deal, known as the joint comprehensive plan of action (JCPOA).
"Waiving some of those sanctions should not be seen as an indication of President Trump or his administration's position on the JCPOA nor does the waiver give the Iranian regime a pass on its broad range of malign behaviour," said the state department's spokeswoman, Heather Nauert.
The US Treasury imposed new sanctions on 11 individuals and companies for alleged hacking attacks on the US and for trading in components for Iran's missile programme. Nine of the targets named were Iranian and two were Ukrainian.
Johnson and Tillerson, speaking at a joint press conference in London, were united in urging the leader of Myanmar, Aung San Suu Kyi, to speak out against the massacre of Rohingya Muslims.
But the two men were clearly at odds over Iran. The UK and the other signatories of the 2015 deal – France, Germany, Russia and China – remain committed to the agreement. The UN's nuclear watchdog, the International Atomic Energy Agency (IAEA), has reported that Iran is sticking to its obligations to abide by strict limits on its stockpiles of nuclear material and on its nuclear activities.
If Trump blocks certification of Iranian compliance in mid-October it would cause a substantial rift with Washington's European allies. But the president has appeared determined to overturn an agreement the Barack Obama administration saw as its signature foreign policy achievement.