Ben Quinn — The Guardian March 11, 2016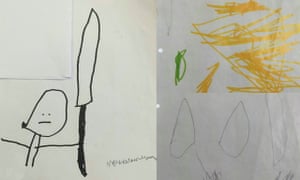 Staff at a nursery school threatened to refer a four-year-old boy to a de-radicalisation programme after he drew pictures which they thought showed his father making a "cooker bomb", according to the child's mother.
The child's drawing actually depicted his father cutting a cucumber with a knife, his mother says, but staff misheard his explanation and thought it referred to a type of improvised explosive device.
On Friday the boy's mother showed the Guardian video footage of her son in which he is playing happily on the floor of his home, and is shown a cucumber and asked what it is. "A cuker-bum," he says, before going back to his toys.
The footage was taken by the mother at the family home in Luton after the nursery discussed referring the child to a de-radicalisation programme out of concerns that pictures drawn by him referred to explosions and an improvised explosive device known as a "cooker bomb".
In between the odd tear and laugh of disbelief, the mother spoke about the experience, which she said had left her shaken and upset, and involved her being told at one point: "Your children might not be taken off you … you can prove yourself innocent."
Of another exchange with nursery staff, she added: "I said: 'When you look at me from where do I look like a terrorist?' … and she said: 'Well, did Jimmy Savile look like a paedophile?'"
The case is the latest chapter in the often unhappy story of the relationship between British Muslims and the various incarnations of the government's anti-terrorism Prevent programme. In particular, the mother's lawyer and activists now also say that the incident raises questions about the circumstances in which 19 children were referred last year to a panel which, under Prevent's Channel initiative, assesses those at risk from radicalisation and recommends possible interventions.